Alloy Steel Plates SA 387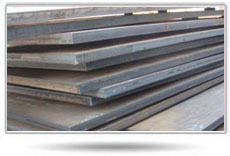 ( Pressure Vessel Chrome Molybdenum Alloy Steel )
A quality normalised and tempered material for steam turbine diaphragms and associated uses within the power generation industry. We Stock Low Alloy Steel Plate in Following Grades
The Following Grades Are Available:
ASTM A 387 GR. 11 CL. 1 / 2
ASTM A 387 GR. 12 CL. 1 / 2
ASTM A 387 GR. 22 CL. 1 / 2
ASTM A 387 GR. 5 CL. 1 / 2
DIN 17175 15Mo3 / 16Mo3
ASTM SPECIFICATION A 387 GR. 2 CL. 2 / 204 GR. A / 204. B
Boiler Quality Plates SA 516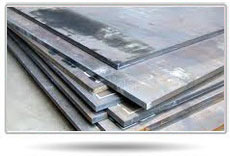 This Material is manufactured to specific ASTM standards in order to produce a superior quality carbon steel plate of consistent ant controlled properties designed to withstand the internal pressure of pressure vessels, boilers, and valves. We Stock Boiler Quality Steel Plate in Following Grades
The Following Grades Are Available:
ASTM A 516 GR. 60
ASTM A 516 GR. 70
ASTM A 515 GR. 70
IS 2002 GR. 1 / GR. 2
Mild Steel / Carbon Steel Plates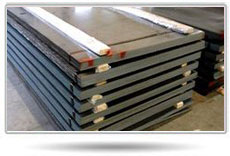 Steel plates are used mainly for the manufacture of bridges, steel structures, ships, large diameter pipes, storage tanks, boilers, railway wagons and pressure vessels. The company also produces weatherproof steel plates for the construction of railcars. We Stock Mild Steel Plate in Following Grades
The Following Grades Are Available:
ASTM A36
S275JR
IS-2062 GR. A / B, Fe 410WA, Fe 410WB
Abrasion Resistant Steel Plates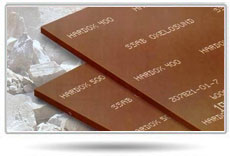 ABRASION RESISTAN 200/400/450/500 wear-resistant steel. has a hardness of approximately 200/400/450/500 HB. It combines high wear resistance with toughness and good weldability. Brand name supplied by us are of TISCRAL / SAILHARD/ JISCRAL/ LAS07 / HARDOX / DILLIDUR / DUROSTAT / ABRASO / XAR AND Other well know brands.
Quenched & Tempered Steel Plates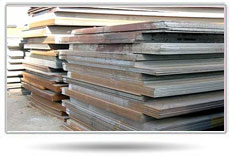 We also supply Quenched & Tempered steel plates, of Specn. ASTM A 514 GR. B,ASTM A 517 GR. F, ASTM A 537 CL.1 & CL. 2
High Tensile Steel Plates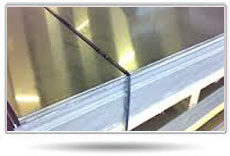 Following Grades are available with us
IS 8500 Fe 440, Fe 440B, Fe 490, Fe 490B, Fe 540, Fe 540B, Fe 570, Fe 570B, Fe 590, Fe 590B
SAILMA 300, 300HI, 350, 350HI, 410, 410HI, 450, 450HI
S275J2G3, S355J2G3, S355J2GIW, S355JR
DILLIMAX 690, NAXTRA 70
Stainless Steel Plates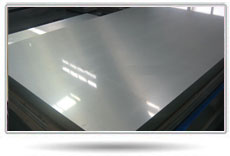 We also can supply you from stock variety of Austentic, Marstentic & Duplex stainless steel plates Some of the popular Specn. are ASTM A 240 Tp 202 / 304 / 304L / 316 / 316L / 321 /309 / 310 / 317L / 409 / 410 / 410S / 430 / UNS NO. S31803 / UNS NO. S32205 / SAF 2205

Nickel Based Alloy Plates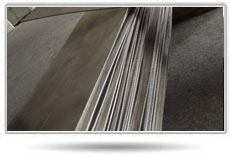 The Following Grades Are Available:
Nickel 200
Nickel 201
Monel 400
Inconel 600
Inconel 625
Incoloy 800 / UNS NO. 8800 / UNS NO. 8810
Incoloy 825
S.S. 904L / UNS NO. 8904
Hastalloy C / SAE-276